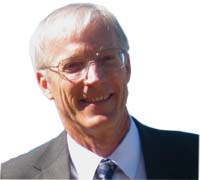 Press Release: Pete Sheehey Re-Elected to Los Alamos County Council
I have been re-elected to the Los Alamos County Council. I am honored that the citizens of Los Alamos have chosen me to continue serving them. Thank you to all the candidates for running a positive campaign, and thanks to outgoing Councilors Steve Girrens and Kristin Henderson for their service to our community. I also want to thank all the people who supported and encouraged me, including my wife, Naishing Key, and the many friends who contributed their time, energy, and money to my campaign.
My fellow Democratic candidates Antonio Maggiore and Chris Chandler were elected to the other two Council positions. Along with the four midterm Councilors, we each bring unique perspectives and ideas to help build a better community. I believe in a collaborative approach to elective office: research the issues, present my ideas, listen to others, and try to find common ground that we can build on.
I hope that at all levels of government, we will move past a divisive campaign and work together to solve the many problems faced by this country and community that we love.
Pete Sheehey
November 8, 2016