Renewable Energy/Environmental Preservation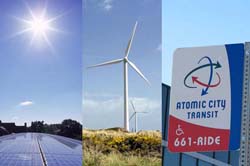 I strongly support the state doing all of its business in a way that encourages energy and environmental conservation, renewable energy, and efficient mass transit. If we do it right, this will save us money in the long run, and preserve the health and beauty of New Mexico. Every time I use Atomic City Transit or the NCRTD "Blue Bus" instead of driving, that is one less gallon of gasoline that we burn and contribute to global warming.
New Mexico has millions of acres of forest that need thinning in order to be in a healthy, sustainable state. If we don't do that, most of them will end up in forest fires like Cerro Grande or Las Conchas, costing us much more than thinning. I strongly support the increasingly successful efforts of the Rio Grande Water Fund, an innovative coalition of public and private groups from all over northern New Mexico, to increase the rate of restoration of our beautiful forest watersheds.
All forms of renewable energy, from hydroelectric, wind and solar to nuclear, need to be considered. The true costs of renewable energy sources must be evaluated against the true costs of fossil fuels. That includes environmental degradation, transportation costs, health costs, and international economic impact. Fossil fuels can be produced and used more efficiently and cleanly, such as by installing equipment to minimize methane leakage. The role of the government here is to ensure a level playing field and to look forward as conditions change.
I am proud of the progress that the Los Alamos Department of Public Utilities is making toward the county's goal of becoming a carbon neutral electricity provider by 2040. Solar electric generation on rooftops or LANL mesa tops is increasingly affordable, and as energy storage and smart grid technology improves, it may be possible to supply a significant portion of our community's and the Lab's needs right here. The county is also doing increasing amounts of recycling, now including yard waste for composting, which not only reduces the amount of methane generated from landfills, but saves the county and its ratepayers money.